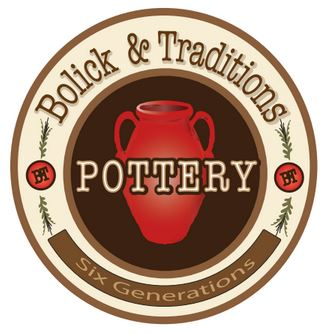 Bolick and Traditions Pottery
will host the 23rd Annual Thanksgiving Wood Kiln Opening on Saturday November 25th.
The groundhog style wood kiln will be unloaded at 10am on Saturday morinng. Guest are encourage to be present at that time to watch the items being taken from the kiln and then make their selection. New items this year by Michael and Janet Calhoun will include candlesticks with Mr. & Mrs Claus relief carvings, small Christmas trees tealight holders, and Rebekah pitchers with the potter's hand attached. Michael Calhoun will have his much desired Santa Face Jugs as well as Mrs, Claus, Harry Potters, Wizards, and more. Lula Owens Bolick will have Monday/Friday face jugs and other traditional jugs. Glenn Bolick will have several "swirl" pieces and Ina Owens Bolick will also have sculpted chickens and hand built items. Both galleries are open daily and stocked with mugs, bowls, serving pieces, and other functional, and decorative pottery just in time for the giving season.
Widows Mite Ministries will be serving donuts and coffee for the early birds, and then soup and cornbread for lunch. The Widows Mite Ministries support Widows in Haiti.
Music will also be a part of the event. Connie Trivette, and Gail Evans will perform in the cabin along with Glenn Bolick.
Lula Owens Bolick is a 5th generation potter from the Owens Family of Seagrove, NC. Janet (Lula's daughter) is a 6th generation. Together, with their husbands, Glenn Bolick and Michael Calhoun, they produce shapes that have been in their family for more than 190 years. Each potter also has their own designs and techniques.
This event is held at
Bolick and Traditions Pottery
at 4443 Bolick Road, Lenoir NC .
Directions: 3 miles south of Blowing Rock, (14 miles north of Lenoir). Turn left on Blackberry Road, go ½ mile then turn right on Bolick Road.
828-295-5099
828-295-3862
www.traditionspottery.com
sales@traditionspottery.com
facebook: Bolick and Traditions Pottery
Every day pottery by everyday potters for 6 generations.